Digital Landscape Design Office Complex in Buck County
Evergreen LMI offers professional commercial landscaping and digital landscape design so that you can get a first hand look at what the completed project will look like before we start. We are a Bucks County area commercial landscaping contractor and can provide detailed landscaping design, installation and project management for your commercial property. Beautiful landscaping will enhance your business, making it appealing to your customers and an enjoyable work place for your employees. At Evergreen our landscape designers make sure that first impression, even before they get in the door, is a positive one. We can deliver complex projects or low maintenance commercial landscaping designs, all within your budget. We offers year round commercial maintenance to keep your building or complex aesthetically pleasing throughout every season.
Before and After Digital Imagery & Finished Landscaping
Digital Design Example – Lighting
Interested in Low voltage landscape lighting? With our digital imaging software this Bucks County PA client was able to get a great idea of what their home looks like prior to the low voltage light installation.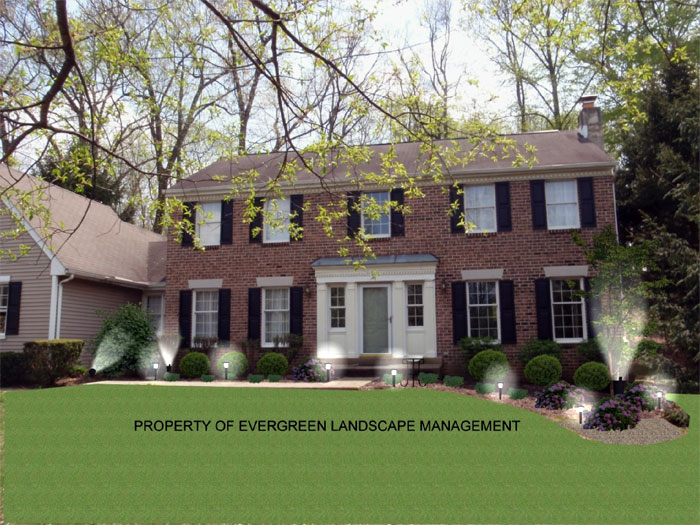 Before and After Digital Landscaping Imagery
Landscape Design Services / 3D Landscape Design
Bucks County Digital Landscape Design
Commercial and Residential